According to a new study by U.S. researchers, a spike protein from Covid vaccination can persist in an individual's tissues and immune cells for months after vaccination. This can cause ongoing immune system inflammation and debilitating symptoms.   
The study, currently in the preprint (not yet peer-reviewed), examined blood samples from 50 vaccinated people who suffered from persistent symptoms similar to those seen in Long Covid such as fatigue, brain fog and headaches months and weeks after vaccination (an average of 105 days at study time, ranging from 38 to 245 days). Blood samples from 35 vaccinated people without such symptoms were compared with these samples. Antibodies and T-cell tests confirmed that none of the participants had had Covid.
Blood immune cells of those suffering from symptoms similar to Long Covid post-vaccination had significantly higher levels of spike protein than those without symptoms. A diagram below illustrates this: the higher levels in the right-hand patient columns are indicative of higher levels of spike protein (S1) in two different types of immune cells.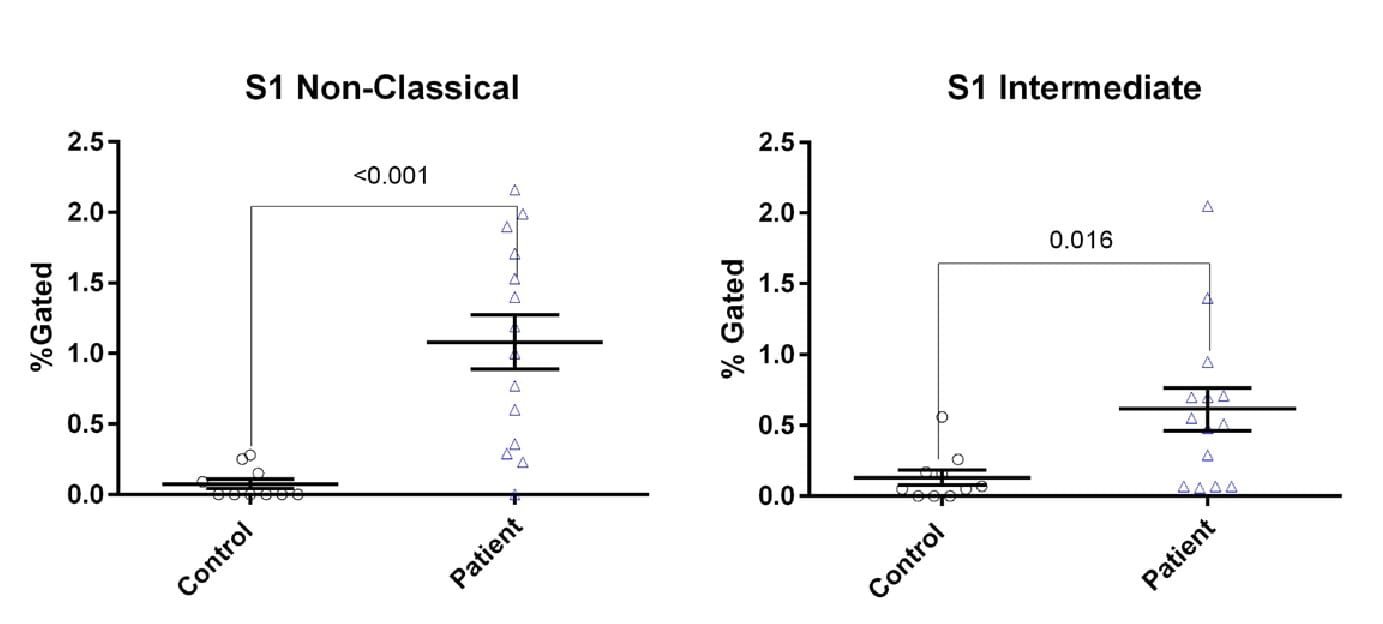 Researchers found signs of immune system inflammation among those with symptoms following vaccination, in addition to elevated spike protein levels. This suggests that the persisting spike protein in the immune cells triggers an inflammatory immune response that results in symptoms. There is some detail provided by the authors about the particular biological pathways involved.
Post-vaccination symptoms were similar to Long Covid symptoms post-infection, except shortness of breath and loss of taste and smell were not experienced. A previous study by the same authors published in Frontiers in Immunology found similar levels of spike protein in the immune cells and similar immune system inflammation among those experiencing Long Covid symptoms post-infection. In conclusion, continuing viral replication "may not be necessary for prolonged symptoms", supporting their hypothesis that spike protein persists in immune cells triggering inflammation in both cases. 
They add that spike protein persistence from vaccination may cause symptoms similar to Long Covid post-vaccination, and that spike protein may also cause symptoms similar to Long Covid post-infection since spike protein "alone" can cause similar pathologic features. The spike protein from the vaccine may cause or prolong Long Covid after infection rather than the infection itself. 
Previous studies by the authors were silent on whether the samples came from vaccinated or unvaccinated individuals, so it is unclear whether they were picking up spike protein from vaccines or infection. As noted by the authors in that study, spike proteins are typically fragments, not whole virus particles, which suggests that they may have been derived from vaccines.
This observation that spike protein persists for months following vaccination, causing ongoing inflammation of the immune system and debilitating symptoms, is highly significant – and contrary to what vaccine producers claimed. Some months after vaccination, it suggests a possible mechanism for serious adverse events affecting the cardiovascular system, such as heart inflammation and blood clots. Given the high rate of cardiovascular deaths in the last year, it's imperative to investigate the possibility that vaccines may be involved.   
About Post Author