This Friday the 24th, Dr Shiva Ayyadurai of EchoMail, inventor of the e-mail, presented the first results of his investigation of Maricopa's postal voting envelopes and showed, among other things, that there were 17,000 duplicate ballots.  Trump lost in Arizona by a margin of less than 10,500 votes.
 In addition to the remaining votes, Shiva offered evidence of premeditated fraud in the presidential election last November.  Several envelopes, including some that were counted two or three times, had the verification stamp apparently preprinted, and many supposedly approved ballots were unsigned.
One of the most surprising discoveries came from Ben Cotton, the founder of CyFIR.
  He examined a long list of security breaches, including shared accounts, shared passwords, and remote access.  He said he could not make a complete determination about many of the discrepancies, such as unusual anonymous logins, because supervisors refused to hand over the key logs.  Some of the excluded files included presidential votes.  He found that, contrary to what supervisors claim, the machines were used to access the internet – thousands of times.  There were non-approved bootable hard drives that contained election information from other states, Washington and South Carolina.
While the name of the account that deleted them was not linked to a specific election official, Cotton said there is a video of the person who accessed those servers at that time.
Cotton said the security breaches are so serious that ballot boxes can be hacked in minutes. "The vulnerabilities that exist on these systems would take an average kitty script less than ten minutes to gain access to these systems," Cotton said. "Our electoral systems were not guaranteed, I assure you."
The result of the audit must translate, at least, into the criminal action of those responsible for the investigation of Maricopa and the immediate disclosure of the results in the state.
The irregularities found by Shiva's team, indicating clear intentional fraud, are just one case. Texas has already announced that it will begin similar audits in four counties, including Dallas. In a press release released by the Texas Secretary of State, he confirmed that the state has full authority to conduct "full and comprehensive audits of any electoral process" and that it has already started auditing procedures in some counties. largest in the state: Dallas, Harris, Tarrant and Collins.
Former Arizona Technology CEO Jeffrey Peterson's said:
  "Today, when reviewing the results of Arizona's audit report, it is obvious that the technology used in Arizona's election was tampered with through remote access to the Microsoft Windows operating system, one of the most insecure operating systems in the history of the technology industry. I cannot say who or what was responsible for such tampering, why the files were deleted… or why thousands of files containing crucial code capable of altering machine functions and processes at the operating system level were modified.
President Donald Trump celebrated a resounding victory following Dr. Shiva's detailed presentation on the findings of the long-awaited Maricopa County Electoral Audit.
Attacking "CNN, New York Times, Washington Post and other Lamestream media," Trump accused the media of "providing large-scale false information to the public about the Arizona Audit."
  Despite what he considers false allegations, he praised Arizona's audit results, which took several months to investigate.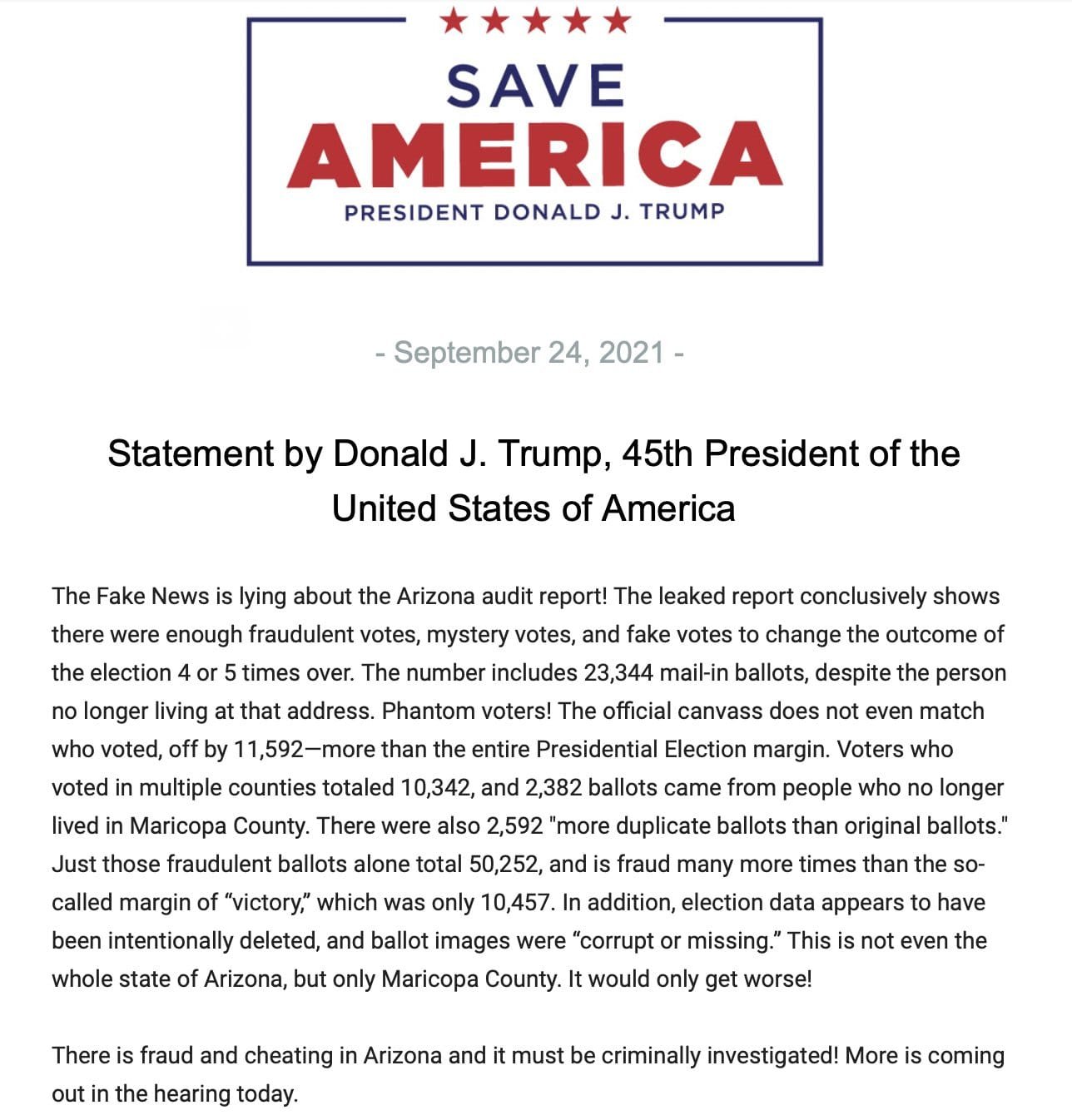 "The audit was a great victory for democracy and a great victory for us," he said.  "It shows how corrupt the election was."
"The Arizona State Senate hearing is happening now and the information about what happened is terrible – an even bigger blow than anticipated!" he concluded.
The United States is a huge country with a widely dispersed population, and it is inevitable that errors and even possible fraud occur in any electoral process, without this justifying speaking, in general, of fraudulent elections. But that is not the alleged case, it never was. What is denounced is a massive and coordinated attempt to prevent Trump from being re-elected by any means.
Senator President Karen Fann closed the session saying she turned over the evidence to Arizona Attorney General Mark Brnovich. Brnovich immediately issued a statement in response, "I will take all necessary actions that are supported by the evidence and where I have legal authority. Arizonans deserve to have their votes accurately counted and protected".
About Post Author