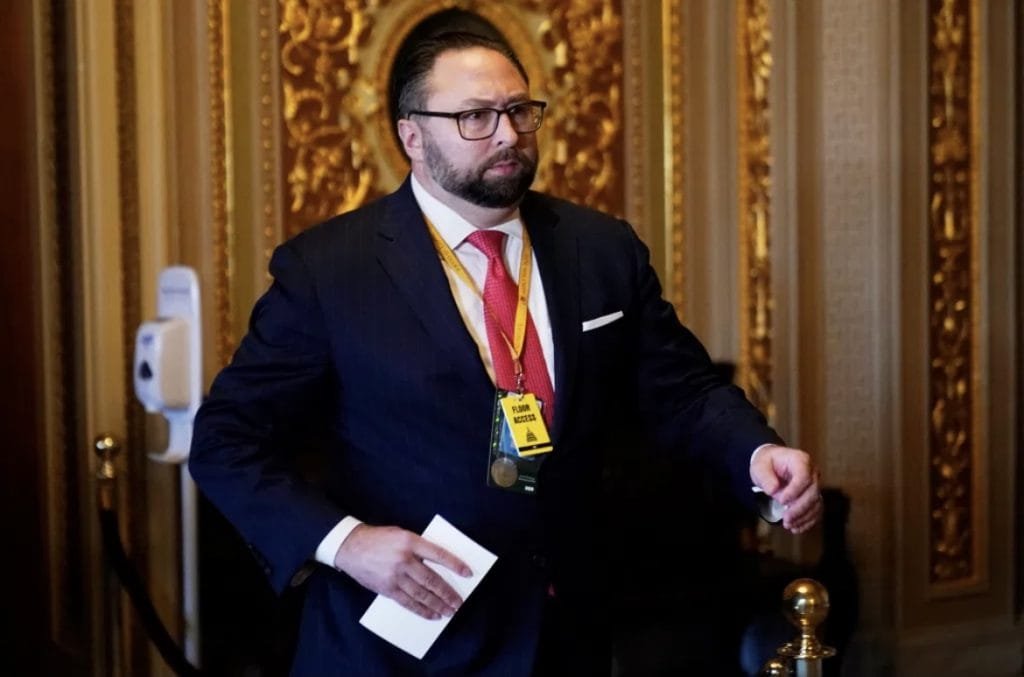 Supreme Court Minister Alexandre de Moraes, known for censoring and arresting conservatives, orders the Federal Police to detain and interrogate Trump's former advisor and also CEO of the social network GETTR, in a "secret inquiry" where lawyers do not have access to the case file .
Jason Miller, the CEO of the new free-speech-focused social media platform, GETTR, and former senior adviser to President Trump, said he was detained at an airport in Brazil on Tuesday, September 7 for questioning as part of two "secret investigations" led by a Supreme Court justice, calling the incident a "political turnaround speech".
This afternoon my travel group was questioned for three hours at the Brasilia airport, after having participated in the CPAC Brazil Conference this weekend.
Miller, in an interview with Fox News on Wednesday, described the incident, saying he was detained and interrogated for three hours at Brasília airport after attending the CPAC Brazil Conference as a speaker.
He said that upon arriving at the airport and after passing security on his way back to the United States on Tuesday, he was approached by plainclothes police.
"I was told I wasn't under arrest, but all they wanted me to do was answer a few questions," Miller explained.
Miller told Fox News he was being questioned as part of "two secret investigations" conducted by Supreme Court Justice Alexandre De Moraes.
Supreme Court Minister Alexandre de Moraes has pursued President Jair Bolsonaro and allies.
He arrested federal deputy, journalists, party president, bloggers and Bolsonaro supporters.
"In Brazil, a Supreme Court judge also has the ability to issue subpoenas, order arrests and much more," Miller said. "They are unsustainable."
Miller explained that there is tension between President Bolsonaro and the Supreme Court.
The Washington Post reported that in recent weeks Moraes has signed the arrest of several Bolsonaro supporters while his office oversees a national investigation into disinformation.
The Post reported that Bolsonaro accused the Supreme Court of abusing its constitutional power. The Post reported that last month Bolsonaro filed a motion for Moraes's impeachment. The senate, chaired by a Senator, a partner in a law firm, which has a billion lawsuit in the hands of Supreme Court justices, quickly declared that it was unfounded, although many recognized jurists said that the request was hefty of evidence for an impeachment.
He said that during Tuesday's interrogation he asked for a lawyer and contacted the US Embassy, ​​who eventually came to help.
"I don't speak Portuguese and none of them spoke English," he said.
Miller, the CEO of GETTR, which launched on July 4th, was asked to provide the names of everyone who was helping with the platform in Brazil. The platform attracted nearly a quarter of a million Brazilians – including the president's two sons, Eduardo and Flavio Bolsonaro, as well as the president himself.

Miller told Fox News that he does not share the identities of individuals working at GETTR in Brazil.
Miller said he was also asked whether he thought a software platform like GETTR could be used to organize an event in Brazil like the one at the US Capitol on January 6th.
"We didn't even start until July 4th, so why are you asking me about January 6th?" Miller remembered.
"This was a political turnaround speech because we support free speech," Miller said, adding that he assumes it has to do with "the feud between the supreme court and the president" and an effort to make it "never come back to Brazil and discard proud patriots."
"I'm actually more motivated than ever".
Matthew Tyrmand, a conservative activist who was apparently traveling with Miller, wrote on Twitter that he was sitting on the runway at the airport while Miller was being "interrogated by anti-Bolsonarists of the Supreme Court." He also shared photos of Miller's meeting with Bolsonaro and his son Eduardo.
Matt Schlapp, president of the Conservative Union of the United States and central organizer of the CPAC, wrote on Twitter.
The entire world will be watching to ensure that no renegade arm of the judiciary in Brazil violates the travel or speech rights of those who have traveled to Brazil for fight for freedom with our friends and allies.
Miller, however, said Americans "take for granted" the US legal system, although many have "frustrations and problems with it."
"It's scary when you see a leader like Bolsonaro who resists the system and challenges the system, which represents a shift to the status quo, where freedom of expression is attacked," Miller said, adding that the "deep state and witch hunts in other countries are more serious "than in the US
Miller told Fox News that he feels his detention would have "a frightening effect".
"They're trying to scare anyone who might talk about things like free speech," Miller said. "They want to use the rule of law, as they define it, for anything they don't like."
Meanwhile, Bolsonaro, during a speech on Tuesday, did not address Miller by name but hit de Moraes, essentially blaming the Supreme Court judge for Miller's brief arrest.We are increasingly conservative.

We increasingly respect our law and our Constitution. And we are no longer going to allow people like Alexandre de Moraes to continue to lash our democracy and disrespect our Constitution," said Bolsonaro. "He had every opportunity to act with respect for all of us. But he didn't act that way, as he still doesn't. Because he has just intercepted an American citizen to be questioned about undemocratic acts.
Bolsonaro called the move "a disgrace to our country, sponsored by Alexandre de Moraes".
Miller told Fox News he is "honored and grateful" that Bolsonaro mentioned the incident.
"I can't say enough positive things about Brazil and the people of Brazil, and the people that make up our user base," said Miller. "Freedom of expression is a real problem, not just in the US, but around the world."
About Post Author