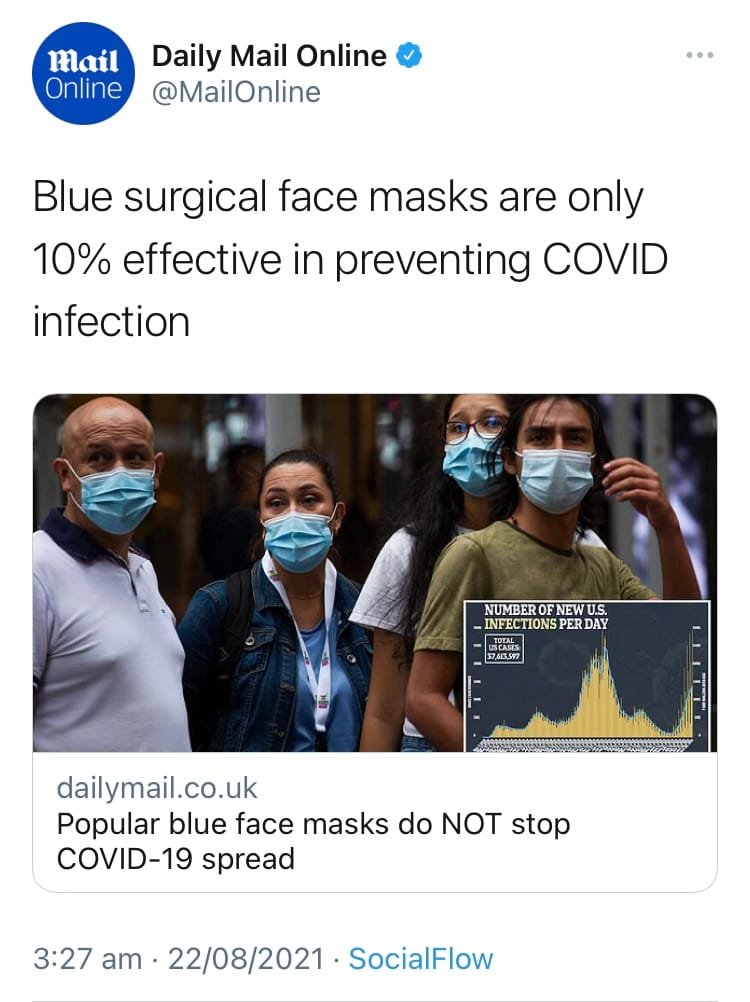 According to Daily Mail Blue surgical face masks are only 10% effective in preventing COVID infection, new study found.
An alarming new study found that most of the blue surgical masks worn by many during the pandemic are not enough to prevent people from becoming infected with COVID-19.
The study at the University of Waterloo in Canada showed that the N95 or KN95 masks did the best job of containing aerosol drops from the user's mouth.
The blue tissue surgical masks that became popular during the pandemic were found to be only 10% effective, as they did not adequately cover the face.
There's no doubt that it's beneficial to wear any face covering, both for protection nearby and at a distance in a room,' said study leader Serhiy Yarusevych, professor of mechanical engineering and mechatronics, in a statement.
'However, there is a very serious difference in the effectiveness of different masks when it comes to controlling aerosols.'
Yarusevych and his team said that many people wear masks that don't fit their faces well.
This causes aerosol droplets to escape through various openings between a person's face and the tissue mask, which can spread COVID-19 into populated areas.
The N95 was, on the other hand, able to filter more than 50% of the aerosol droplets, while the other half is dispersed above the user's head.
'A lot of this might seem like common sense,' comments Yarusevych.
"There is a reason, for example, why doctors use N95 masks – they work much better. What's new here is that we provide solid numbers and rigorous analysis to support that assumption."
Yarusevych's team added that ventilation tests revealed that even modest ventilation rates provide almost the same level of protection as the highest quality masks.
Earlier this month, former COVID-19 adviser to President Joe Biden and prominent epidemiologist warned Americans "that many of the face cloths people use aren't very effective."
Dr. Anthony Fauci reportedly described mask-wearing as "not really effective" in a February 5, 2020, email to Sylvia Burwell, President of American University and the former U.S. Health and Human Services secretary. "The typical mask you buy in the drug store is not really effective in keeping out the virus, which is small enough to pass through the material," he wrote:
School boards and local officials are concerned about the rapid increase in COVID infections in Texas as the delta strain ravages nations, arguing that masks are necessary for children too young to get the vaccine.
This is despite the fact that the virus poses almost zero risk to children, as well as evidence that masks inhibit children's learning and cause psychological damage.
About Post Author