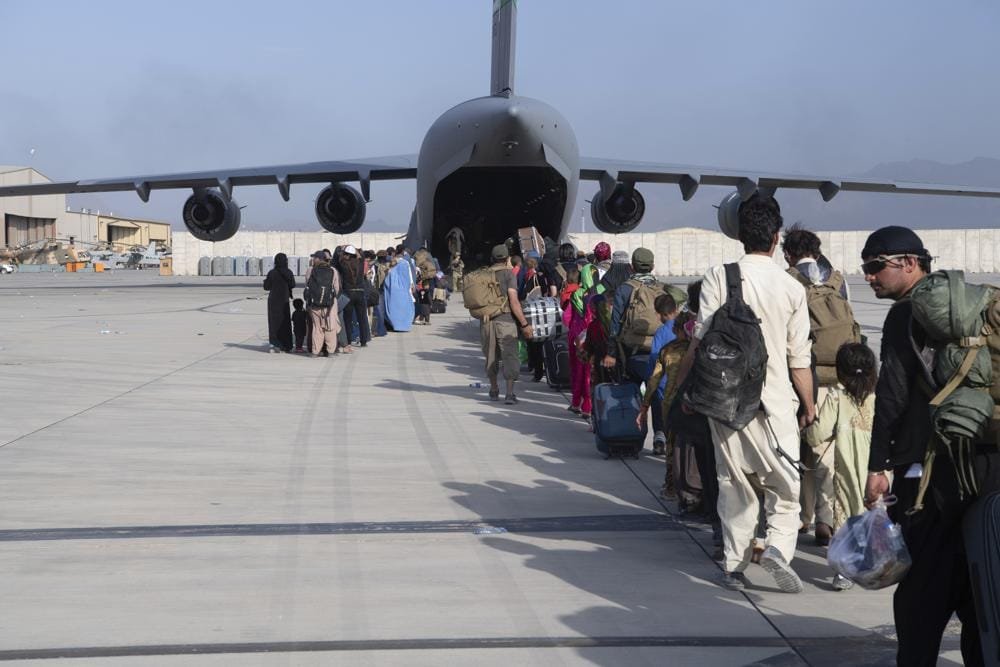 At least 13 people including children have been killed in two separate explosions near Kabul airport, while three US soldiers have been wounded, just hours after warnings of an 'imminent' and 'lethal' ISIS terror attack.
The first blast was caused by a suicide bomber outside the Barons Hotel where British troops and journalists have been staying, which was followed by gunfire and mass panic before a second explosion from a car bomb ripped through a crowd of Afghans gathered at the Abbey gate of the Hamid Karzai airport.
Images from the scene show scores of bodies piled up on the streets and bloodied people being carried away in wheelbarrows, with one emergency hospital treating 30 wounded people after six died on their way there.
An Afghan man queueing to enter the airport said the explosion hit the middle of a crowd of thousands, and he saw many injured and maimed people near where US troops were stationed.
A US official said ISIS-K, a splinter of the terror group who is the sworn enemy of the Taliban, are 'definitely believed' to have carried out the attack. 
The devastation could spell the end of the airlifts before the August 31 deadline, with Germany already pulling out all its military planes in the wake of the blasts, potentially leaving thousands stranded under Taliban rule.
Many had feared an attack could derail the evacuations, with the airport a likely target with crowds rushing to escape and many Western troops stationed at the transport hub.
Pentagon Spokesman John Kirby said: 'We can confirm that the explosion at the Abbey Gate was the result of a complex attack that resulted in a number of US and civilian casualties.
'We can also confirm at least one other explosion at or near the Baron Hotel, a short distance from Abbey Gate. We will continue to update.'
A Number 10 spokesman said Boris Johnson has been updated on the situation and will chair a COBR meeting later this afternoon, while Joe Biden has also been briefed.
Emmanuel Macron said he may struggle to evacuate 20 buses with French citizens on board at the airport gate and says he is in negotiation with the Taliban to secure their release.
Officials do not believe there were any British casualties from the blasts.
Tory MP Nus Ghani said she was on the phone with somebody outside Kabul airport when one explosion happened, tweeting: 'Explosion at Kabul airport. I was on the phone with an Afghan outside the airport when he heard the explosion.
'Praying that he gets away safely and we get his family safe passage out of this nightmare.'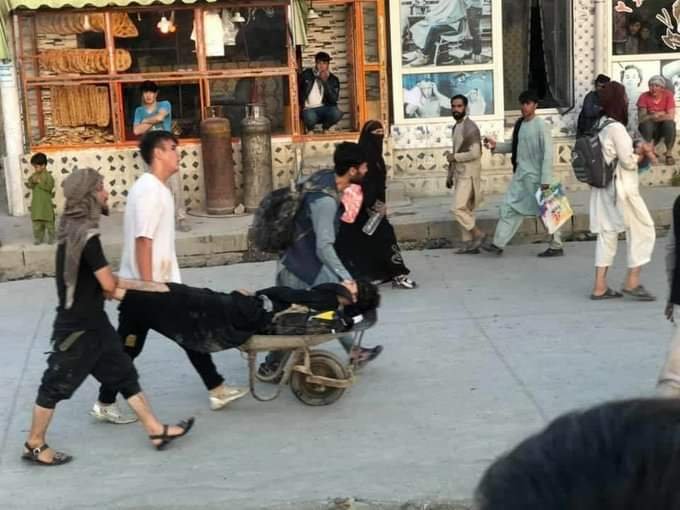 Meanwhile, Conservative MP Alicia Kearns, a member of the foreign affairs and national security strategy committees, said: 'A bomb or attack with gunfire at the northern gate of Baron's hotel. Worried this will devastate evacuation – so many hurt. My heart is with all those injured and killed.' 
Tom Tugendhat MP, who served in Afghanistan, said: 'The attack on innocent people at Kabul airport simply trying to escape the horror of Taliban rule shows exactly who the group has brought with them.
'The pattern is well established – from Nigeria and Mali to Syria and Iraq whenever Islamist extremists take power, terror follows.'
A former Royal Marine who was near to the explosion close to Kabul airport has said his vehicle was targeted by a gunman amid the chaos.
Paul Farthing, known as Pen, who founded the Nowzad shelter in Kabul, is aiming to get 200 dogs and cats out of the country alongside his animal shelter staff.
'All of a sudden we heard gunshots and our vehicle was targeted, had our driver not turned around he would have been shot in the head by a man with an AK-47.
'We've been in the airport, and back out of the airport; the whole thing's a mess.
'There's not much more I can say at the moment, I need to make sure the animals and everyone are safe.'
Earlier, gunfire to disperse the thronging crowds at the airport was initially thought to have targeted a plane transporting 100 civilians to safety.
A source from Italy's Defence Ministry had said shots were fired at the Italian C-130 plane minutes after take-off but it was not damaged.
But intelligence reports now claim the gunfire was to disperse crowds gathered at the airport and was not directed at the departing plane amid the panic.
An Italian journalist told Sky TG 24 that she had been aboard the plane along with 98 Afghan civilians when it appeared to be targeted by machine gunfire.
'The pilot reacted promptly and implemented manoeuvres to avoid being hit within minutes of taking off from Kabul. There was a bit of panic,' said the journalist.
Earlier, armed forces minister James Heappey said there was 'very credible reporting' of a 'severe' attack which could happen 'within hours' by ISIS-K, the sworn enemy of the Taliban who wants to cause mayhem in the new regime. 
The US, Britain and Australia had already told their citizens to flee the airport over the terror threat with Western forces still stationed at the transport hub.
Meanwhile, Afghans who had been told to stay away from Kabul airport are instead flocking to Pakistan and Iran in a bid to escape after the UK told them to head to the border, while many countries have announced they are ending their airlift operations from today.
Heappey told the BBC Radio 4's Today programme: 'There is now very, very credible reporting of an imminent attack.
'It's an extraordinarily challenging situation both on the ground and as a set of decisions to be taken here in Whitehall because people are desperate, people are fearing for their lives anyway.
'And so I think there is an appetite by many in the queue to take their chances, but the reporting of this threat is very credible indeed and there is real imminence to it. I can only say the threat is severe.'
About Post Author