Antivirus software entrepreneur John McAfee was found dead in a Barcelona prison cell hours after a Spanish court agreed to extradite him to the US to face tax evasion charges.
Catalonia's Justice Department in Spain said prison doctors tried to resuscitate him but were unsuccessful.
Nishay Sanan, a lawyer for John McAfee, said on Thursday that he had seen no signs before the businessman's death in a Spanish prison that he was going to commit suicide.
"I had constant phone contact with him. At no time did he show any special concerns or clues that might make us think this might have happened."
The lawyer said he felt "pain, anger, misunderstanding that there was no justification under any circumstances for this man to remain in prison, and said he intended to fight all charges.
"It's again the US government trying to erase John McAfee," Sanan told NPR on Wednesday. "This man was a fighter. And in the minds of everyone who knew him, he will always be a fighter."
Minutes after McAfee's death announcement on Wednesday, his Instagram account shared an image of the letter "Q" in an apparent QAnon reference.
A spokeswoman for the Catalonia Department of Justice said the death appeared to have been a suicide, but the ultimate cause would be determined by autopsy. The prison opened an internal investigation, she said.
In October 2020, John McAfee was arrested in Spain as he was about to board a plane to Turkey and accused of not filing tax returns for four years, despite earning millions from consulting, speaking, cryptocurrencies and selling rights for your life story.
The arrest came shortly after he said he had information about corruption of politicians and a CIA agent.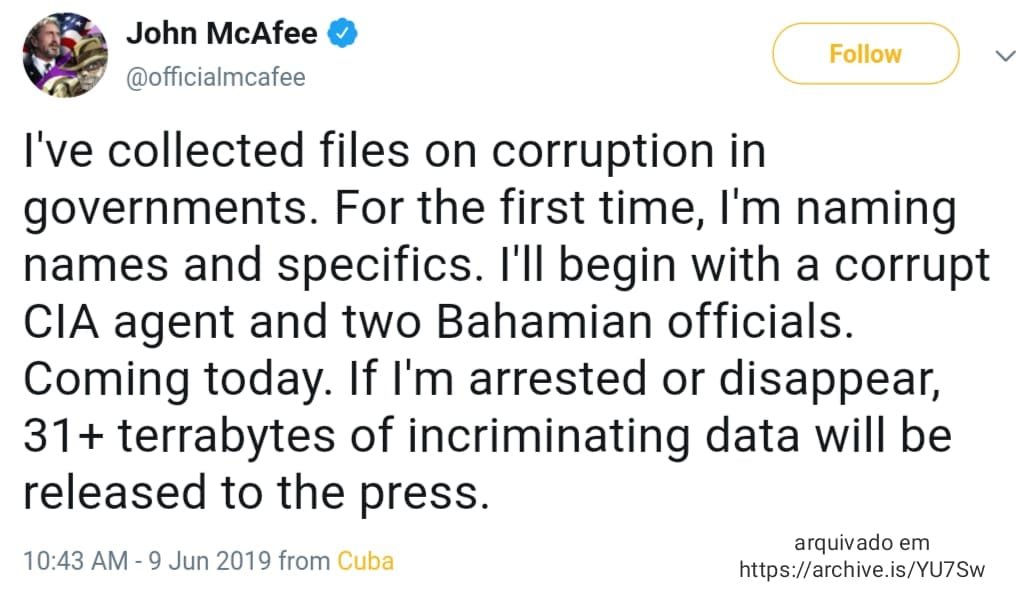 Days after being arrested, he tweeted from prison:
"Everything is good. Know that if I hang myself, a la Epstein, it won't be my fault."
He was referring to registered sex offender Jeffrey Epstein, who "killed" himself in a US prison in 2019.
The US Department of Justice claimed that McAfee avoided tax obligations by having its income paid into bank accounts and cryptocurrency accounts on behalf of nominees.
He was also accused of concealing property, including a yacht and real estate, also on behalf of others.
Spain's National Court authorized his extradition to the US to face the charges on Wednesday morning.
In recent years, McAfee has repeatedly claimed there was a plot to catch him — however, the court said there was "no revealing evidence" that he was being prosecuted for political or ideological reasons, reported the Spanish daily El Pais.
He argued at a hearing earlier this month that the charges against him were politically motivated and that he would spend the rest of his life in prison if he returned to the United States.
But Nishay Sanan, a McAfee attorney, said he intended to fight all the charges.
The businessman, who was born in Gloucestershire, England, first gained prominence in the 1980s, when he founded his technology company and launched McAfee VirusScan.
Although he is a pioneer of computer security, he once admitted to the BBC that he never actually used the software on his own computers—or any anti-virus software for that matter.
"I protect myself by constantly changing my IP address [internet protocol], not attaching my name to any devices I use, and not going to sites where you can catch a virus," he told BBC technology reporter Leo Kelion in 2013.
"Porn sites, for example, I just don't go there."
He also launched unsuccessful bids to become the Libertarian Party candidate for presidential elections in 2016 and 2020.
In 2019, McAfee expressed its contempt for taxes, tweeting that it had not filed tax returns for eight years because "taxes are illegal."
In the same year, he was briefly detained in the Dominican Republic for allegedly bringing weapons into the country.
McAfee has never fit the mold of what a tech entrepreneur can be. He was brash, reckless and never far from the next scandal.
The Antivirus that he created and named after him, It was a big hit and made him a rich man. He also helped create a multi-billion dollar computer security software industry in the process.
McAfee was a visionary, but also a hothead. It was his temper that got him in trouble throughout his life.
In 2012, he was arrested in Guatemala for having been on the run in Belize, where police were investigating the death of his neighbor.
He always denied any involvement in the murder.
A prominent libertarian, engaging speaker, and cryptography enthusiast, McAfee still had the ability to make money. His last contact with law enforcement was due to alleged tax evasion on his recent earnings.
He will rightly be remembered as an important figure in the development of the technological landscape of the 1980s and 1990s. But he will also be remembered as a deeply controversial figure, who at times seemed determined to pursue a path in life that could lead to several problems.
About Post Author