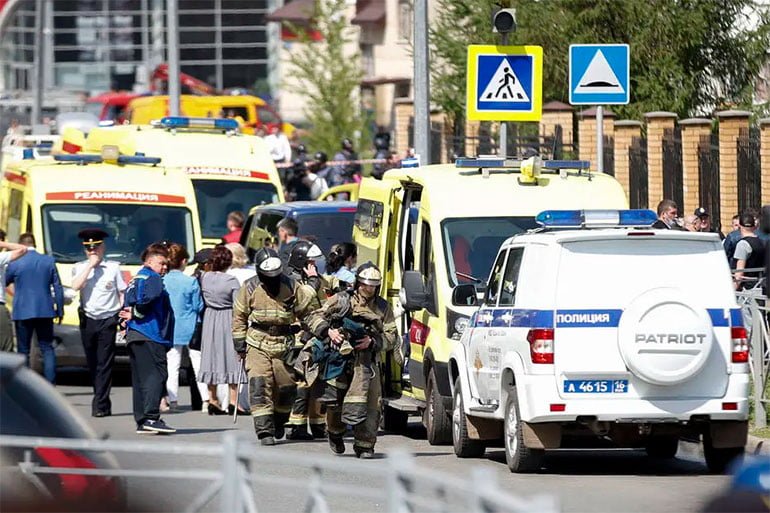 A shooting attack at a school left at least 11 people dead in the Russian city of Kazan on Tuesday (11), according to local media.
Kazan is the capital of the Muslim-majority region of Tatarstan and is located about 725 km east of Moscow.
He opened fire on students at school No. 175, which, according to official information, has 1,049 students and 57 employees.
"We heard an explosion inside the school and saw a lot of smoke," said one witness.
"I was in class, I heard an explosion and then shots," said a teacher.
More than 30 people were injured, regional officials told AFP. "Six minors are in serious condition and in the ICU," said local government spokesman Lazat Jaydarov.
One of the snipers was killed and the other was arrested, the Russian press announced. "The second attacker who attacked the school in Kazan and hid in the building was killed," said a security source.
The 19-year-old detainee, said Rustam Minnikhanov, president of Tatarstan.
"He was allowed to carry a gun," said Minnikhanov.
The RIA news agency said an explosion was heard at the school. Images posted on social media showed a young man being immobilized by a police officer in the vicinity of the building.
Images released by witnesses on social media show children and teenagers jumping through the windows of the three-story building to escape the shooting and bloody people receiving medical attention.
Attacks on schools are rare in Russia. One of the last major attacks of this type took place in the annexed territory of the
Crimea in 2018, when a university student killed 19 people before taking his own life.
In response to the attack, President Vladimir Putin ordered a review of Russian arms regulations.
"The president has ordered a new structure to be drawn up urgently on the type of weapons authorized for circulation among the civilian population, taking into account the model used in the Kazan shooting," said Kremlin spokesman Dmitri Peskov.
About Post Author