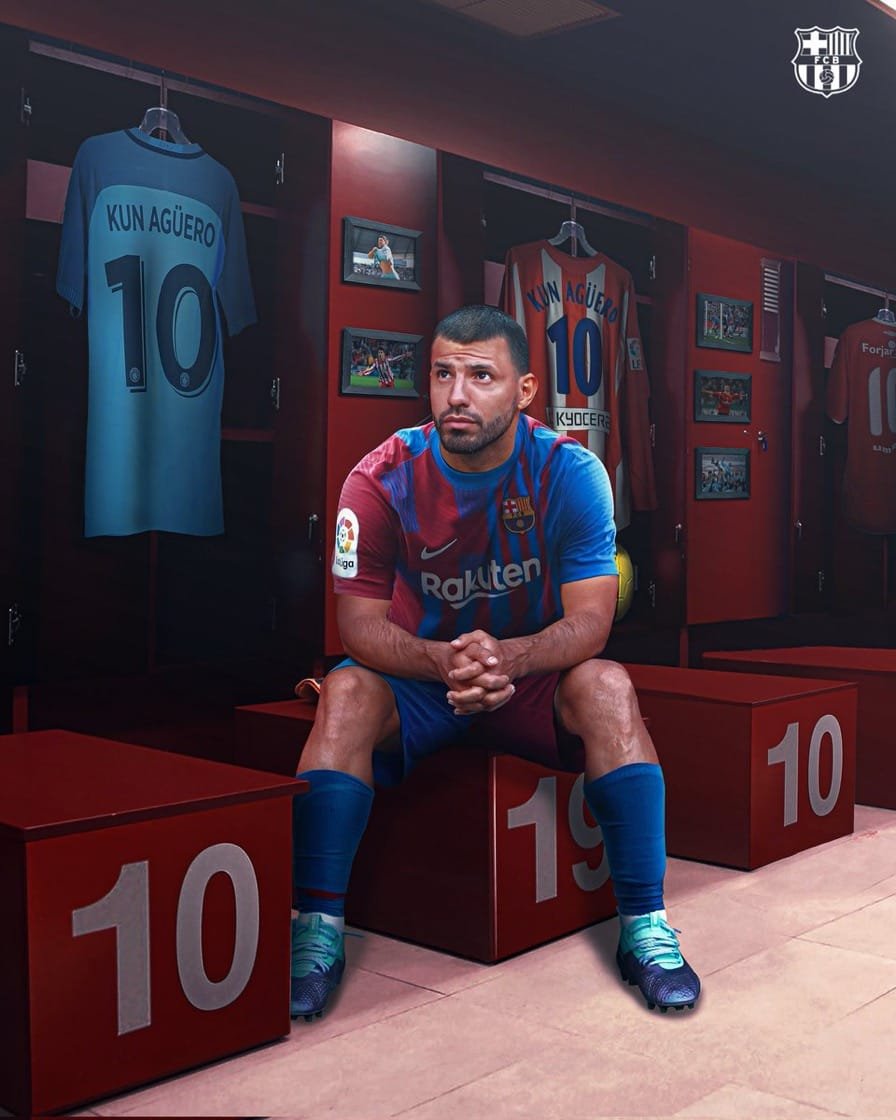 Manchester City's record-breaking top scorer, who moved to Barcelona via a free transfer in the summer, had to be replaced during their 1-1 draw with Alaves in October after receiving field medical assistance to treat chest pain and dizziness .
Sergio Aguero says he is "proud" of his career after accepting the "very difficult" reality of retiring from sport to protect his health.
The 33-year-old sobbed when he announced the news on Wednesday, less than six months after joining Barcelona.
The former Manchester City forward was taken to hospital on 30 October after experiencing "chest discomfort" during a 1-1 draw with Alaves.
"The decision I made, I made for my health," said Aguero.
Manchester City coach Pep Guardiola was among a small crowd watching Aguero make the announcement near Nou Camp's pitch.
Aguero, who ended his career with 427 goals in 786 games, took some time to recover after crying at the start of the event and added: "This conference is to communicate that I have decided to stop playing football. It's a very difficult time.
"When they performed the first physical test on me at the clinic, the medical staff called me to say that there was a high possibility that I would not be able to continue playing. From that point on, I was processing everything, but it wasn't easy. One of the doctors told me directly, 'That's enough'.
"I want to tell everyone that I did everything possible. I dreamed of playing football since I was five years old and I touched the ball for the first time. I never thought I would make it to Europe, so I want to thank everyone, no matter where I trained."
"I'm proud of the career I've had and I'm lucky it's happening to me now and not before. I don't know what awaits me in the next life, but I know there are many people who love me and want the best for me."
"It's a very difficult time. The decision I made for my health, this is the main reason, for the problem I had a month and a half ago.
"I was in good hands with the medical team who did their best and told me that the best thing would be to stop playing.
"I made that decision about a week ago and I want to tell everyone that I did everything possible to be hopeful, but there wasn't much."
Posting on Twitter, Aguero added: "Retiring under these circumstances is difficult, but life comes first – I knew that from the start."
City manager Pep Guardiola was one of several representatives from Aguero's former clubs who attended the press conference on Wednesday, while the club also paid tribute to the former striker on social media.
About Post Author