Ariana Grande got secretly married over the weekend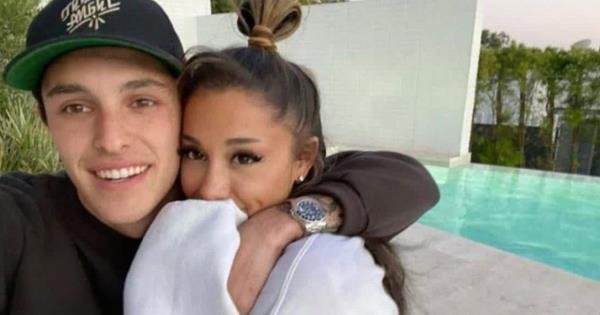 27-year-old Ariana Grande and 29-year-old Dalton Gomez are now married.
The two reportedly exchanged vows in secret last weekend at the singer's mansion in Montecito, California, in the presence of some friends and family.
According to a representative of the singer, there was no formal ceremony, they just exchanged vows in an informal way.
"It was small and intimate – less than 20 people. The room was so happy and full of love. The couple and the two families couldn't be happier," said the representative on Monday (17).
They had been engaged since Christmas last year. The singer showed the engagement ring on Instagram, a diamond and pearl ring valued at approximately R $ 3.9 million.
The two would have known each other when Dalton helped the singer buy the mansion where she currently lives. The property belonged to the presenter Ellen DeGeneres.
The couple took on the romance in May last year when the young realtor made a cameo appearance in the video for Stuck With U, a singer's partnership with Justin Bieber
Fans comment on the wedding:
"Ariana got married this weekend. It seems like yesterday that I was sitting on my couch every day after school, watching her in 'Brilliant Victoria'.
"She grew up so fast," wrote Johnny.
"Ariana Grande is a married woman now, I'm so happy for her," celebrated fan Anna.
And there are also news in the professional area, as announced in March, the singer is the new judge of The Voice of the United States and takes the place of Nick Jonas, of the Jonas Brothers.
"Surprise!! In addition to being thrilled, I am honored and very excited to join Kelly Clarkson, John Legend and Blake Shelton in the next season of "The Voice", she wrote at the time.
The new season is scheduled to debut in September.
About Post Author