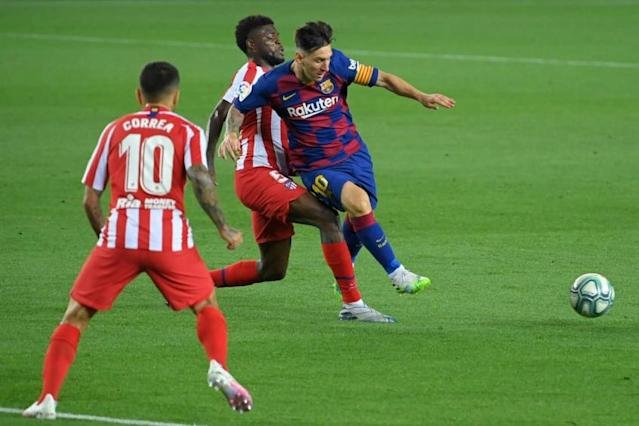 BARCELONA (Reuters) – The fight for the Spanish Championship title was completely open after Barcelona and Atlético de Madrid drew 0-0 on Saturday at the Camp Nou.
The stalemate means that third-placed Real Madrid, if they win fourth place Sevilla on Sunday, will assume the top position of the table – with the same 77 points from Atlético -, but ahead because they have an advantage in the direct confrontation, just three rounds away. Final…. –
Barcelona moved up to second place on Saturday with 75 points.
"We are still in the fight. La Liga is wide open.
Three games are a lot, even if we know it's no longer in our hands ", said Barça defender Gerard Piqué. "If we win our last three games, I think we will win the league. We will fight until the end, even if we have not done what we needed ".
Although with greater possession of the ball during the first half, Barcelona scared little Oblak. In contrast, Atletico Madrid, with a defensive stance, bet on counterattacks and opportunities did not open the scoring due to the brilliant display of Ter Stegen.
On the Catalan side, only Messi brought a sigh of good football. In an individual move full of the Argentine player's magic, the striker broke through the mattress defense and only failed to score a beautiful goal because Oblak was also inspired.
In the second half, the game was more evenly distributed, but with more fouls and less real chances of goal. Coach Diego Simeone launched João Félix in the 67th minute, but the Portuguese striker did little in the game. The Portuguese Trincão, from Barcelona, ​​never arrived.
About Post Author